Pin Bhaba Pass Trek – The Stunning dark forests of Mulling
Pin Bhaba Pass Trek 2020
Forests of Mulling are very charming! Straight out of story book. There are coniferous trees.
You will be trekking through the dark forests of this Bhaba valley. But it is the forest scenery that strikes you the most.
Hear the gushing of the turquoise river cutting through the meadow. The grasslands of Mulling will melt your heart.
Drop dead gorgeous landscapes of Kara which has Kashmir.
The high-altitude meadows of Karah are the closest you'll get to the grasslands of Kashmir.
This is one of the prettiest campsites.
Watch the snow-capped mountains and enjoy the beauty of lush meadows
The crossing of Pin Bhaba Pass
If you are an adrenaline junkie, this pass crossing will skip your heartbeat.
The moraine setting around the pass crossing is as beautiful as the first few days of the trek.
Climbing to the pass is a lovely challenge. The higher you get, the more you tower over the rest of the scenery.
The snowcapped peaks are now almost at eye level.
Why to choose Pin Bhaba Pass Trek?
See firstly, the trekking distance is a total of by taxi 409Km and on foot 60km km which is to be covered into the 8days.
Shimla to Kafnu to Mulingto Kara- Phustirang- Pin Bhaba Pass- Mangruse- Mudh- Manali
Before heading towards the itinerary, it is really essential to perceive the reason behind choosing the Pin Bhaba Pass
Pin Bhaba Pass trek is a high-altitude mountain trek Altitudes is 4909 Meters
The Starting trail is easy to moderate – difficult as compare to other treks this is Moderate – Difficult trek. So, this trek is for the people who have done high altitude treks before. Not meant for beginners, or family or school tour
Need proper gear & clothing for sub-zero temperature?
You got to see so many heavenly bodies at one place like the panoramic view of the Himalayan ranges, like Kinnauri Range, Pir Panjal and Lahaul and Spiti Range, you can see pine forests, different variety of flora and fauna surpassing
I think Do spare time in Interaction with our local's team, and you will get to know about some of the ancient tales of Indian mythology and our local cultures, this is good ideas for trekkers
Beautiful landscapes so carry proper photo gear & Extra battery backup.
The backpack should not exceed 12 kg only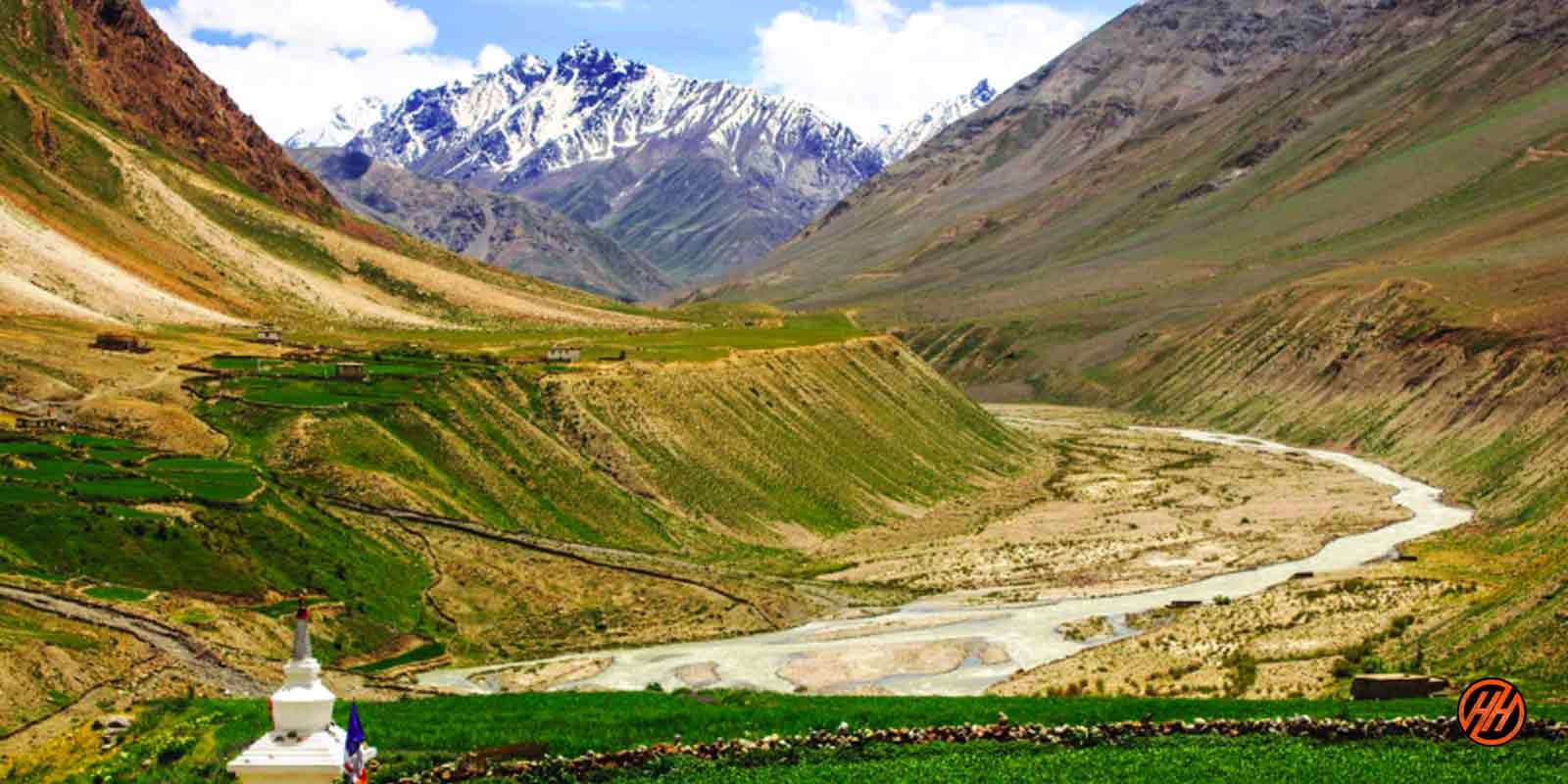 Getting to Himalayan hikers Base Camp Kafnu
Option 01 – Direct flight to Delhi and book a bus from Delhi – Shimla
Kolkata to Delhi
Mumbai to Delhi
Pune to Delhi
Delhi to Shimla
Shimla to Kafnu
Option 02 – Take the night train from Delhi to Kalka (Nearest railway to the base camp)
(Special A/C train from New Delhi would be best)
You can reach Shimla and around 5:00 am to 7:00 am, vehicles will be arranged and there you can meet our office member.
Note: – Himalayan Hikers arrange vehicles for you from Shimla and Drop Tempo
ATM Point & Mobile connectivity
ATM POINT: Withdraw money before your journey, Shimla is the last point where you will find ATM.
(If you want to withdraw the money then do it in Shimla.)
Key Points Pin Bhaba Pass
Duration: – 7 Nights 8 Days from Shimla to Mudh
Base camp: – Kafnu base camp
Summer Temperature: – 13°C to 18°C and Night: 0°C to 7°C
Pin Bhaba Pass Trek- Altitude: – 4,909 m
Best Time: – Mid May- End of September
Trek Level: – Moderate- Difficult
Trek distance: – On foot 60Km – By taxi 409km
Group Size: – a minimum 5 people maximum 15 people
Altitude we are going to cover per day
      Kafnu camp – 2401m
      Muling camp- 3242m
      Karah camp-   3552m
      Phutsirang camp- 4107m
      Mangrungse camp-4909m
      Pin Bhaba Pass – 4168m
      Mudh – 3744m
Short Itinerary of Pin Bhaba Pass Trek
Day 1: Pick up to you from Shimla Old Bus Stand. Reach Kafnu from Shimla. (208km) (8/9 hours journey)(2401m)
 Day 2: Trek from Kafnu to Mulling (11.3km) ;( 8 hours) (3242m)
Day 3: Trek from Mulling to Karah (6.3km) (5 hours) (3552m)
Day 4: Trek from Karah to Phutsirang (4.9 km)(4 hours)(4107m)
Day 5: Acclimatization and rest day at Phutsirang
Day 6: Trek from Phutsirang to Mangrungse via Pin Bhaba Pass (9 hours) (10.9 km) (4168m)
Day 7: Trek from Mangrungse to Mudh (16.29 km) (7hours) (3744m)
Day 8: Drive from Mudh to Manali (252km) (7 hours)