Explored by "Himalayan Hikers" in the late 90's
Phulara Ridge lies in the Govind Wildlife Sanctuary. As you would know there are many pristine treks in this sanctuary of Uttarkashi district, Phulara is one of them!
it is the rare ridge trek in Uttarakhand but unlike others, it has not seen many footsteps that differentiates it from other places.
"Himalayan Hikers" took their first group 2003 – of "Woodstock school" to this idyllic place since then not many people have known about this hidden gem in the Himalayas.
"The Phulara Ridge literally means ''the ridge of beautiful flowers' '.
It is located in Govind wildlife sanctuary, Uttarakhand (India).it is a lower Himalayas -high altitude trek about "12,127 Feet".
Actually Phulara Ridge is a type of large spread forest (bugyals). Throughout the year this region is covered with greenery and beautiful flowers like Brahmakamal and Fankamal (many others species ).
The high mountain chain and the wonderful evergreen valleys lie here and that is the main reason behind the growth of a maximum number of natural vegetation in this high altitude region.
In winter Phulara Ridge is mostly covered with snow and little fog and that makes it much more interesting for visiting the next view after every step that takes you along with it to the forward.
The way of this forest begins from mid of the dense forest and ends to the bugyal which is surrounded by the beautiful mountain peaks and that's why it is said that 'if the way is most difficult so, the destination is also more beautiful' this line always suit to "Phulara Ridge Trek "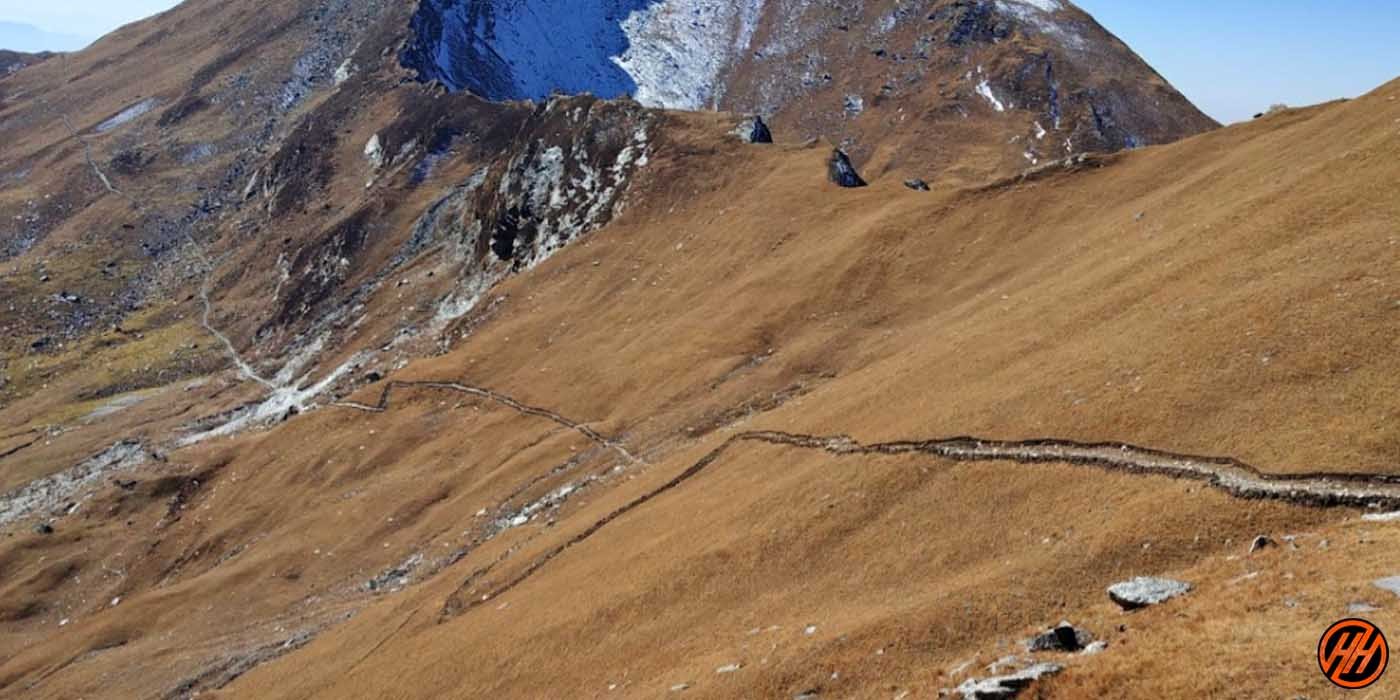 Phulara Ridge Trek – Winter and Summer Delight
Therefore, a great thing about Phulara Ridge trek is, it has got different charm in different seasons.
It can be seen at full bloom in summers; the wildflowers, foliage and the sun shining in the blue sky all together make the scenery picture perfect.
But, in winters the snow covering the landscapes and the all-white beauty can leave anybody praising it.
So, it is one of those treks which can be done throughout the year.
"From the year 2003 company "Himalayan Hikers" is organizing this trek and mostly we had organized treks with Wood Stock School Mussoorie, Welham Boys School Dehradun " and our customized groups, whenever comes we mainly offer this trek to them because this trek is full with plenty of joy and knowledge about the adaptation of Phulara Ridge.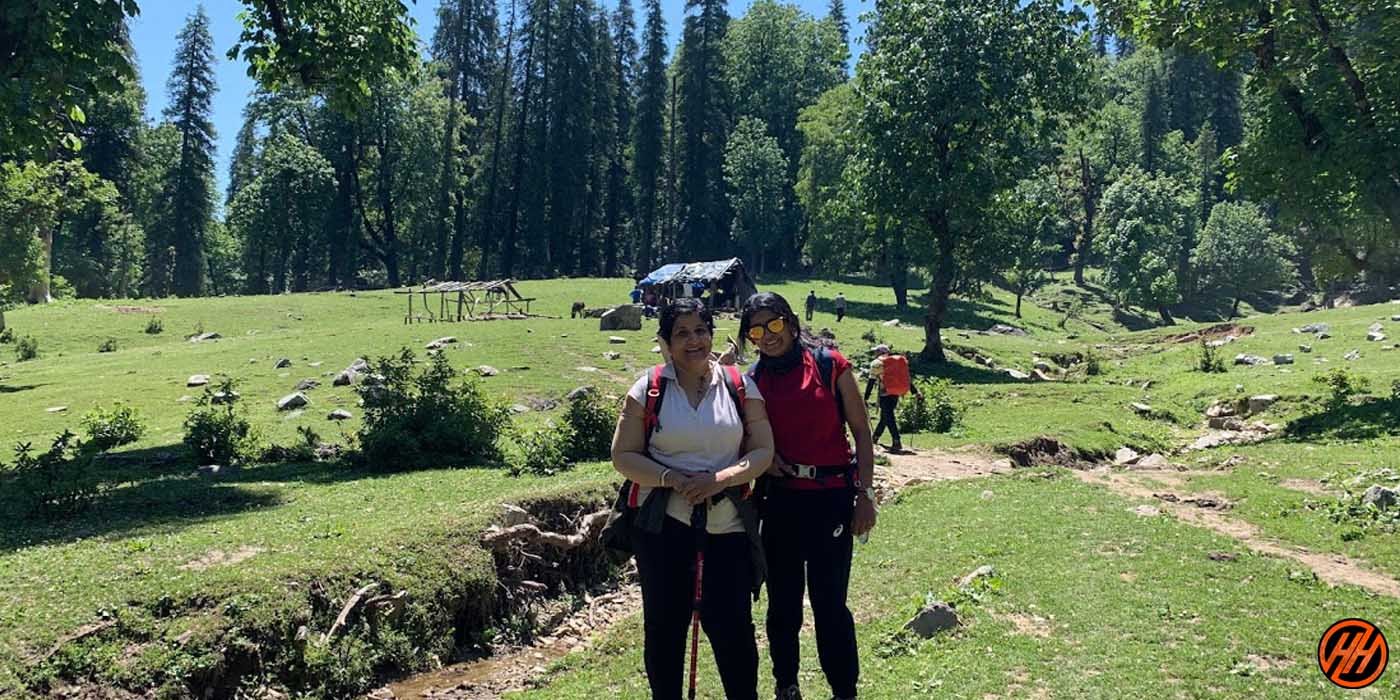 History of Base camp Sankri
In 1970 only foreigners used to visit here and the number exceeded 20 people per day.
At that Har ki Dun trek was the most famous one and it was highly visited by the people.
The number of Bengali trekkers was also high, they did many high altitude passes and visited Sankri frequently.
The Moon from Sankri base camp seems so close that touching it feels possible.
And, the sunrise from Sankri is extremely beautiful because the golden rays of the sun eagerly welcome and wake you up.
The sunset is beautiful too but a short while of darkness will surely make you smile afterward when the moon shines.
The lives in the mountains are different, here are risks and happiness too!
The trekkers told me if the office, airport everything was here, they would never leave the mountains.
My only answer was – if every facility was here then the mesmerizing beauty of the mountains would have lost somewhere!
The untouched beauty is the thing that provides peace and a spark to know about the mountains.
We are really lucky and happy to be "Pahadis".
The Attractions of this Trek
The trek starts from Sankri which is the base camp of more than 25 treks.
During the trek pass through verdant forests extremely rich in Flora and Fauna.
Small clearings on the way are surprisingly beautiful.
Above all, panorama views of Himalayan peaks are the main attraction of Phulara Ridge trek.
Thus, the summit offers exotic views of Swargarohini, Kala Nag, Devkyara,
Bandarpoonch, Rangnala, Hanuman Top, Top of Sarutal, Vijay Top and Kedarkantha.
Level: Easy to Moderate (this trek is good for beginners)
During the trek proper conditioning training of body required
Need proper gear clothing for sub-zero temperature
Shoes are the single most important equipment.
Beautiful landscapes so carry good photo gear Extra battery backup Travel light
The backpack should not exceed 12 kg.
Altitude we are going to cover
Sankri (1920 Meters)
Sikolta (2900 Meters)
Bhoj Gadi (3470 Meters)
Phulara Ridge ( 3700 Meters )
Getting to Himalayan hikers Base Camp Office at Sankri
Take the night train from Delhi to Dehradun.
(Special A/C train from New Delhi would be best)
However, You can reach Dehradun Railway Station around 5:00 am to 7:00 am, vehicles will be arranged and there you can meet our office members.
Note: – Himalayan Hikers arrange vehicles for you from Dehradun Railway Station Pickup and Drop Tempo
Transport costs per person one way Rs. 1100/- Extra pay to Directly your taxi driver

ATM Point & Mobile connectivity
ATM POINT: Withdraw money before your journey, Purola is the last point where you will find ATM.
(If you want to withdraw money then do it in Dehradun.)
Mobile Connectivity: There will be no networks during the trek, in Purola your device will receive the networks and at Sankri only Vodafone and BSNL signals are there but you cannot rely on the connectivity because the signal strength is not good.
So make sure you finish all your important work and calls before starting the trek.
Key Points Lamkhaga Pass Trek
Duration: – 5 Nights 6 Days
Base camp: – Sankri
Summer Temperature: –Day (5°C to 15°C) Night (2° C to 5°C)
Altitude: – 3700 Meters
Best Time: – All year
Trek Level: – Moderate
Trek distance: –On foot 23 Km – By taxi 420 km
Group Size: –20 people
Short Itinerary Lamkhaga Pass Trek –
Day 1 :- Pickup to you from Dehradun railway station – Drive to Sankri Market – 210 Km (8/9 Hours (1920 Meters)
Day 2 :– Trek from Sankri to Sikolta (07 km) (4/5 Hours) (2900 Meters )
Day 3 :– Trek from Sikolta to Bhoj gadi camp (04km) (3/4 Hours) (3470 Meter )
Day 4:- Trek from Bhoj Gadi camp to Phulara ridge summit (3700 Meters) Pushtara thach 6 km) (5/6 Hours)
Day 5:- Trek from Pushtara thach to Taluka (8km) (4/5 Hours) same day Drive to Sankri Hotel
Day 6:- Sankri to Dehradun by taxi (210 km)(8/9 Hours)