Dhumdhar Kandi Pass was recognized in 1815 by James Baillie
Dhumdhar Kandi Pass connects Bhagirathi and Tons Valley starting from the confluence of Sian Gad, in the old times the locals used this path to reach the remote Tons valley. It was recognized in 1815 by James Baillie and a West Bengal's team traversed this pass successfully. He is great mountaineer
Dhumdhar kandi Pass trek lies at the height Altitude of 5608 Meters. The trek starts from Sankri base camp which is the base camp of more than twenty five treks and ends at trek Harshil, Gangotri valley, Uttarkashi
Dhumdhar kandi pass trek is a pass perched between high mountains in India which divides two valley, Yamuna valley and Ganaga Valley in Uttarakhand. It was used as a trade route between Ruinsara Tal and Harshil valley. .
Dhumdhar kandi pass Trek is an Enthralling valley in the Garhwal Himalayas of Uttarkashi district in Uttarakhand India, this trek come under Govind Wildlife Sanctuary National park .No doubt, the Himalayas have enchanting beauty, bracing climate and desirable soothing green meadow.
About Dhumdhar Kadni Pass
Bhagirathi River and Yamuna River are fed by the glaciers on either side of the pass. This trek involves descending into Black Peak ice fall which at Dharali Ki Udari meets Bandarpoonch glacier. Go through beautiful mountain villages, surpassing meadows and through big snow fields with overwhelming views of Bandarpoonch, Black Peak and Swargarohini.
The Most importantly, the trek is a difficult one and not for beginners because the trail is exhilarating and includes crossing risky areas and steep ascents.
Therefore, the trek involves associated challenges but is great for adventure seekers and avid trekkers. In addition to the adventure and beauty, the marvelous panorama views in Uttarakhand Himalayas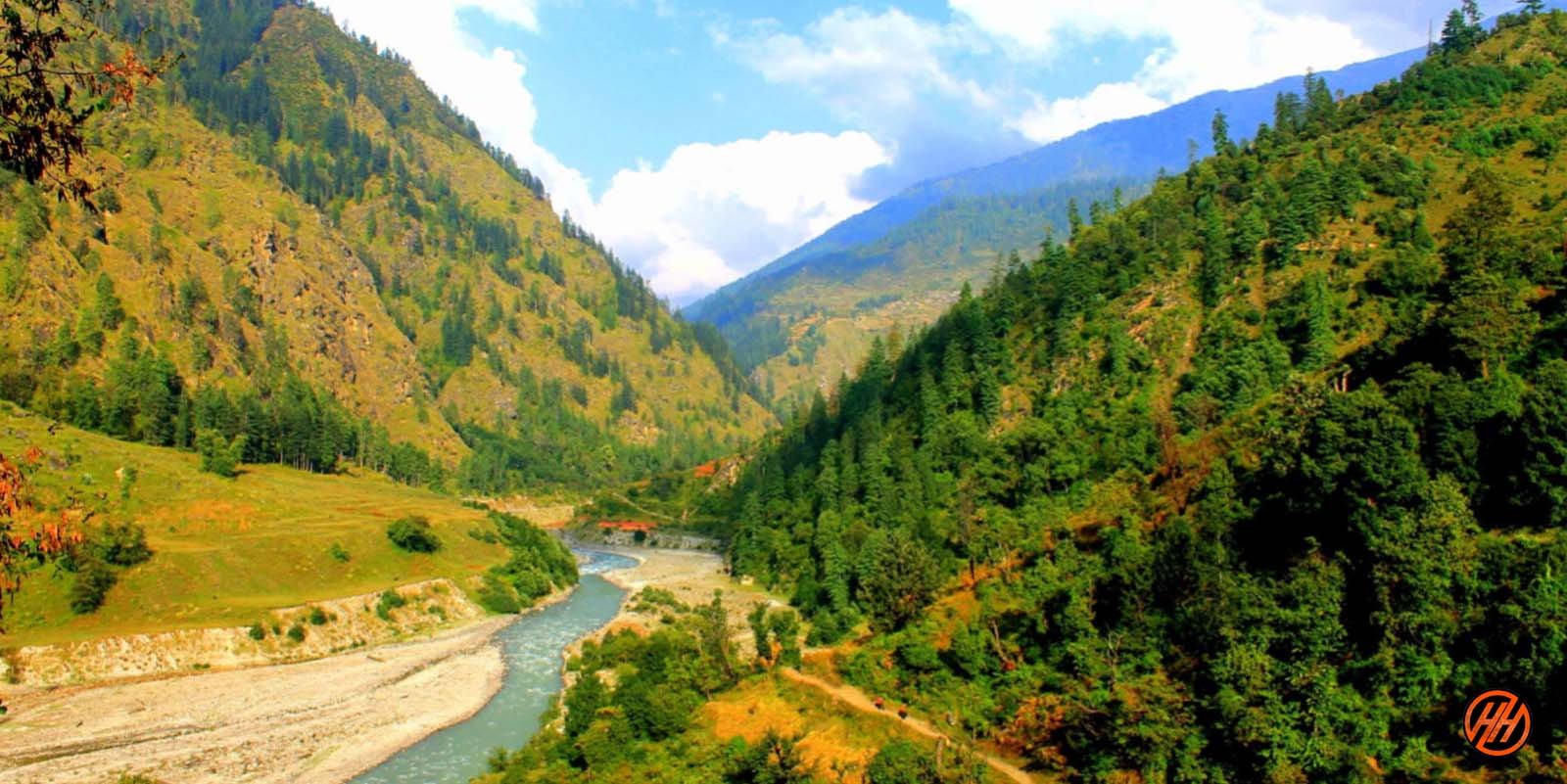 Best Time to do this trek
So, the best time to do the trek is 2st week of May to last week of November because in pre-monsoon the trail remains covered in snow and the climb gets tough.
We are local team in Uttarakhand so we have more experienced team Himalayan Hikers
WHY TO CHOOSE DHUMDHAR KANDI PASS TREK?
Before heading towards the itinerary, it is really essential to perceive the reason behind choosing Dhumdhar kandi pass trek.
See firstly, the trekking distance is a total of by taxi 221 +231 Km and on foot 64 km which is to be covered into 8 days. . Dehradun to via Ruinsara Lake, kyarkoti, Black Peak, pass,
Dhumdhar kandi pass trek is a high altitude mountain trek Altitudes is 5608 Meters
The Starting trail is moderate as compare to other treks this is difficult trek. So this trek is not for beginners
Need proper gear & clothing for sub-zero temperature?
You got to see so many heavenly bodies at one place like the panoramic view of the Himalayan ranges, meadows, one of the beautiful Ruinsara lake trek and bali pass on the way beautiful pine forests, different variety of flora and fauna surpassing through bona fide Garhwali heritage and culture.
I think Do spare time in Interaction with our locals team, and you will get to know about some of the ancient tales of Indian mythology and our local cultures, this is good ideas for trekkers
And, in summers, the Dhumdhar kandi pass trek turns totally different and amusing because of meadows, wildflowers and woods blooming in different colures.
Beautiful landscapes so carry proper photo gear & Extra battery backup.
The backpack should not exceed 10 to 12 kg only

Altitude we are going to cover
Sankri – 1920 Meters
Cheludgad camp – 2600 Meters
Devsu Bugyal Camp – 3000 Meters
Reinsure Tal – 3500 Meters
Kyarkoti – 3900 Meter
Dhorain Odari – 4500 Meter
Dhumdhar kandi pass – 5608 Meter
Getting to Himalayan hikersBase Camp Office at Sankri
Take the overnight train from Delhi to Dehradun.
(Special A/C train from New Delhi would be best options)
You can reach Dehradun Railway Station around 5:00 am to 7:00 am, vehicles will be arranged and there you can meet our office member.
Note: – Himalayan Hikers arrange vehicles for you from Dehradun Railway Station Pickup and Drop Tempo
ATM Point & Mobile connectivity
ATM POINT:Withdraw money before your journey, Purola is the last point where you will find ATM.
(If you want to withdraw money then do it in Dehradun.)
Mobile Connectivity:There will be no networks during the trek, in Purola your device will receive the networks and at Sankri only Vodafone and BSNL signals are there but you cannot rely on the connectivity because the signal strength is not good. So make sure you finish all your important work and calls before starting of the trek.
Key Points Dhumdhar kandi pass trek
Duration: –11 Nights 12 Days from Dehradun to Dehradun
Base camp: – Sankri
Summer Temperature: – Day 5°C to 15°C = Night -2° C to -5° C
Dhumdhar kandi pass – Altitude: – 5608 Meters
Best Time: – May, June, September, October, November
Trek Level: – Difficult
Trek distance: – On foot 80 Km – By taxi 441 km
Group Size: – minimum 5 people maximum 10 people
Short Itinerary Dhumdhar kandi Pass Trek –
Day 1- Pickup to you from Dehradun railway station – Drive to Sankri Market – 210 Km (8/9 Hours (1920 Meters)
Day 2 – Trek from Sankri to taluka by taxi – 11 km same day trek to Cheludgad camp (12 km) (4/5 Hours) (2600 Meters
Day 3 – Trek from Cheludgad camp to Devsu Bugyal (07 km) (3/4 Hours) (2890 Meters )
Day 4 – Trek from Devsu Bugyal to Ruinsara Tal (12 km) (5/6 Hours) (3500 Meters)
Day 5– Trak from Ruinsara Lake to Kyarkoti Advance Base Camp (7 km) (5/6 hours) (3900 Meter)
Day 6– Trek Kyarkoti Advance Base Camp to Camp 01 Dharon Odari (6 km) (4/5 hours) (4500 Meter)
Day 7– Rest + Acclimatization Day at Camp 01
Day 8– Trek from Dharon Odari (Camp 01) to Camp 02 (04 km) (3/4) (5000 Meter)
Day 9– Trek from Camp 02 to Dhumdhar Kandi Pass (5608 m) and Gantrara gad /Ratiya camp (6 km) (4/5 hours)
Day 10– Trek from Ratiya camp to Kyarkoti camp (9 km) (4/5 hours)
Day 11– Trek from Kyarkoti to Dhorian Gharat (7 km) (4/5 hours)
Day 12– Trek Dharian Gharat to Jhala Harshil (9 km) same day Drive to Dehradun via Uttarkashi (231 km)