Chopta – A Great Trekking Destination!
Avid Trekkers Satisfy your Adrenaline Rush in Uttarakhand

Chopta is a small hamlet lying in Kedarnath Wildlife Sanctuary of state Uttarakhand at an elevation of 2,679 meters also known as "Mini Switzerland". The trail further leads to Tungnath; third temple of Panch Kedar and the world's highest temple of Lord Shiva and it further continues to Chandrashila "Moon Rock". Uttarakhand is the most desired destination for trekkers because there are the heavenly places which can appease the adrenaline rush.
You will Love the Heavenly views in Chopta's Tranquil Charm
Chopta offers delicate views of the entire Himalayan range and macrocosmic sight of Chaukhamba peaks, Nanda Devi and Mt. Trishul. This place is barely inhabited and has perfect charm because of the tranquil environment and being away from the hustle and bustle of crowd, its serenity is maintained.
Get Jaw Dropping Experiences at Chopta
Chopta has perfect adventure to make one feel full of life. It has exciting array of experiences to suit any palette whether it is – piety, spirituality, adventure, weekend vacation escapade or tranquillity. Witness the untouched nature at its best and get heart touching views of shimmering peaks touching the sky.
Go through the forests full of Rhododendrons where the flowers bloom in red and pink, get surprised by the meadows that look no different from windows wallpaper. At night watch the blanket of stars covering the sky and relish stargazing.
Waking up to the chirping of birds, sound of gushing streams and soft melody of trees, what can be better than this? And beyond anything, do not miss the sunrise! The sky can be seen changing multiple colors in just few minutes at this golden time.
Chopta is great for Birdwatching
It is a part of Kedarnath Wildlife Sanctuary and this place is extremely rich in Flora and Fauna. More than 550 species of birds are found here. On your way spot beautiful Himalayan Birds which are rare to find anywhere else.
Best time for birdwatching in Chopta is March to September.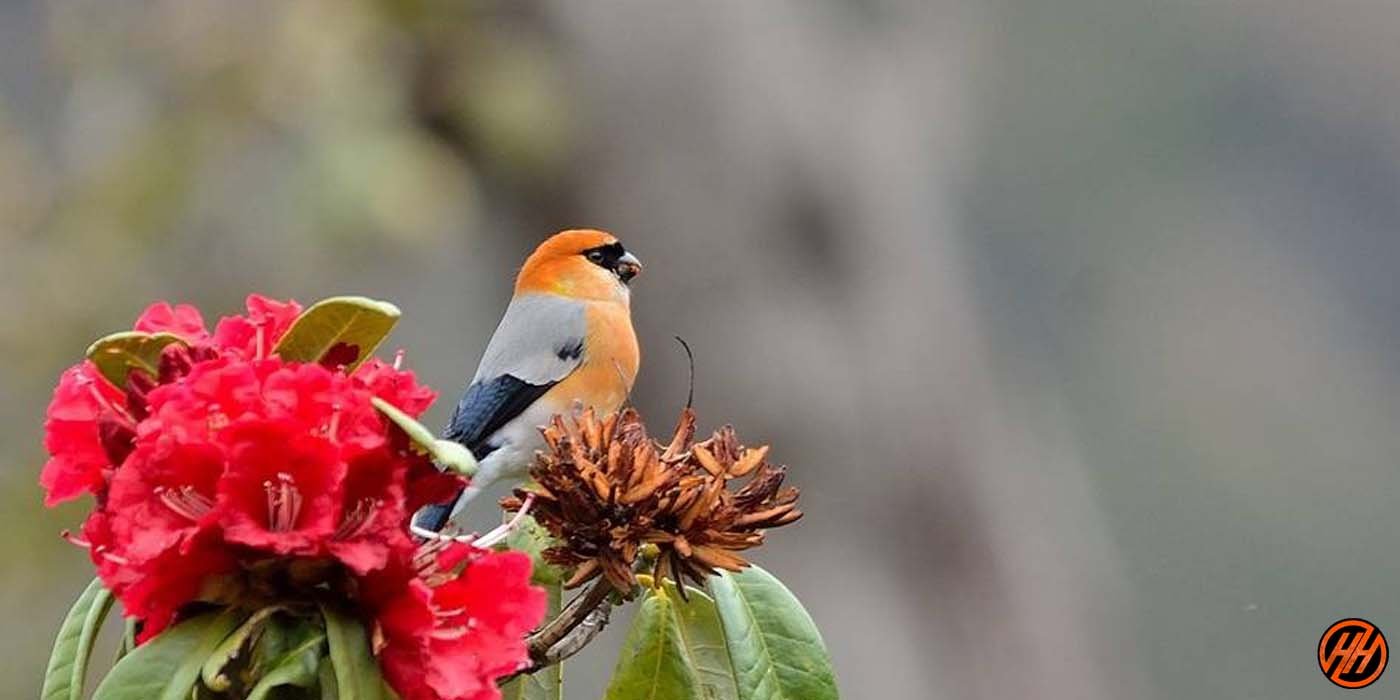 All about Trekking in Chopta, Uttarakhand
"Trek through Heaven"
Unlike other hill stations Chopta is not crowded, this is one of the reasons of its fame. The trekking enthusiasts and nature lovers must visit this place atleast once. Chopta trek can be extended to climb the Chandrashila peak and it turns great for amateur trekkers to start in Himalayas.
Altitude:
Chopta – 2679 m
Tungnath – 3680 m
Chandrashila peak – 3682 m
Best time to do this Trek:
Chopta – Throughout the year
Tungnath and Chandrashila – April to November
In winters due to heavy snowfall the trail gets inaccessible and remains covered in snow from December to March.
Highlights
Chopta is one of the best hill stations barely inhabited and least crowded. Witness the untouched natural beauty of this verdant land.
It is great for birdwatching, different Himalayan species of birds can be spotted in this region.
Explore Deoria Tal also known as "Devariya Tal" it is considered pure because the Gods took bath here.
The trail further leads to Tungnath and Chandrashila peak "Moon Rock". Tungnath is the world's highest temple of Lord Shiva.
Get astounding views of the entire Himalayan range and macrocosmic sight of Chaukhamba peaks, Nanda Devi and Mt. Trishul.
Chandrashila peak offers panoramic views
Written by : – Tulika Negi